Som det påpeges i artiklen under video med Martha MacCallum – så er det ikke første gang at USA spekulerer i at overtage Grøndland – og de STORE omkostninger der er ved holde den meget lille oprindelige befolkning i live deroppe (4 milliarder årligt –  eller over 70.000 kr. årligt i gennemsnit for hver af de 56.000 indbyggere – betalt af danske skatteborgere). 
At Donald Trump kører frem som en damptromle i fuld offentlighed – det er nu engang hans stil – og som mange påpeger er der sikkert en mediemæssig strategi  med  – 'ved han jo godt' – den noget provokerende fremgangsmåde.
Som det har været lige siden han startede sin præsidentkampagne i 2015 – så handler det om at 'være Tophistorien' på de store medier  – og her er Grøndlandshistorien et sikkert 'homerun'.
—————————————-
Som dansk Statsminister og Dronning – så må man jo i sidste ende være glad for – at 'det er USA der rører lidt i gryden'.
Havde det været Putin og Rusland – så havde man bare modtaget en besked (fra lokalbefolkningen) – om en invasion af tropper og militær  (Øen var besat/afspærret) – og derefter kunne man så have 'klaget til FN og EU – og Nato – uden at det ville ændre noget som helst.
—————————————–
Udsnit af artiklen lånt fra Fox News:
The Wall Street Journal first reported last week Trump was interested in buying Greenland, a semi-autonomous territory under Danish control with a population of approximately 56,000.
According to the paper, Trump asked his advisers about acquiring the island during "meetings, dinners and passing conversations" because of Greenland's "abundant resources and geopolitical importance."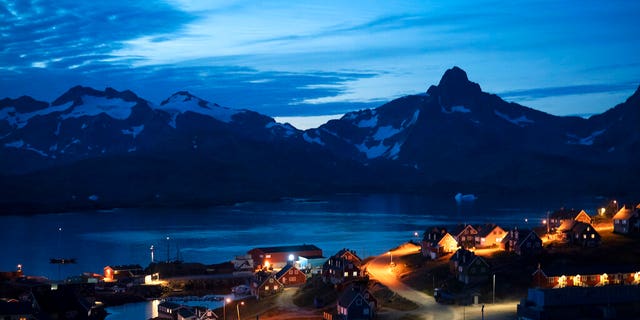 The U.S. made a somewhat similar effort to buy Greenland in 1947, albeit without the razzle-dazzle of social media.
The idea led some left-wing commentators to mock the White House, but most found humor in the moment — and, in something of a fourth-wall-breaking moment, Trump himself appeared to join in on Monday, tweeting a meme originally credited to Ricochet editor-in-chief Jon Gabriel.
The meme depicted a lavish Trump skyscraper looming over a mostly empty village in Greenland.
The president captioned the image, "I promise not to do this to Greenland!"
But, Greenland is not on the market in any event, Frederiksen said.
"Greenland is not Danish. Greenland is Greenlandic. I persistently hope that this is not something that is seriously meant," Frederiksen told reporters Sunday during a trip to meet Kim Kielsen, the premier of Greenland
Speaking to reporters in New Jersey this past Sunday, Trump compared the proposal to "a large real estate deal."
"A lot of things can be done. It's hurting Denmark very badly because they're losing almost $700 million a year carrying it," he said. "So, they carry it at great loss, and strategically for the United States, it would be nice. And, we're a big ally of Denmark and we help Denmark, and we protect Denmark."
CLICK HERE TO GET THE FOX NEWS APP
At the same time, Trump said buying Greenland was not a top priority for him or his administration.